Huntingburg Airport History
In 1937, a future avid aviator and later an eastern airline pilot and captain, began his career, as well as his association with the Huntingburg Airport. Forrest May Jones, otherwise known as "Frosty" Jones, took his first flying lessons from Frank O'Neil at the Vincennes, Indiana airport. Interestingly, Frosty Jones attained his license after only 7 hours total flying instruction, including 4 hours in Boonville, IN.
After acquiring his license and taking up aerobatic flying, there was not much to slow Frosty. Various cities in the Tri-State solicited him to perform his maneuvers. Many thought he was a fool for his complex aerial stunts. However it was not long he had followers and admirers due to his aerobatic creativity.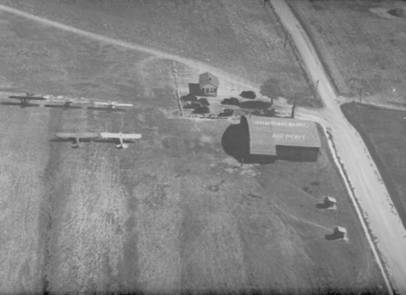 Frosty was contacted by Edward "Ed" Schwartz to start up an airport in Dubois County. The initial plans had been to buy land between Huntingburg and Jasper – the county seat, but the cost of land was prohibitive. He finally settled on the brush covered120-acre Katterhenry farm, 3 miles south of Huntingburg, owned by Harold and Ima Katterhenry and deeded March 7, 1939 to Forrest M. Jones. The Huntingburg Airport, Inc. was thus born, organized and approved by the secretary of the state on June 16, 1939.
Local Kiwanians/Businessmen whom where either civic boosters or had a special interest in flying, considered investing in the Huntingburg airport as a donation. Frosty took controlling interest of the airport when he received Ed Schwartz's airport stock in exchange for flying lessons for his son Bus.
Maintaining the airport was not an easy job for anyone, as it took hard work and prodding, but issues were getting resolved. Frosty obtained a grant from the Federal Government for the beacon and lights, however there were not sufficient funds available to eliminate the hump in the middle of the turf runway.
Local businessman, Ray Olinger was able to bring a bulldozer in and move enough dirt at the last minute to qualify the airport as an emergency landing strip in 1939. The Olinger family contributed to a variety of improvements at the airport over the years.
As WWII approached, Frosty transferred the ownership of the airport to the Huntingburg Airport Corporation and went to Florida to train pilots for the military. Cinders replaced the grass strip runway in 1947. In 1948, Ray Duncan was running the airport when the 2900' E-W runway was paved and the first airshow was sponsored in 1955.
Chuck Scales owned and operated Indiana Airmotive, Inc, a Fixed Base Operation on the Huntingburg Airport from July 1958 until Dec 1998. Chuck was raised in Oakland City, IN, moved to Evansville in 1946 and graduated from Bosse High School in 1949. He learned to fly  in 1949, while living in Sioux Dakota. He took one year of pre-med there, then changed his major and transferred to Purdue University.  He graduated from Purdue in 1955 with a B.S. in Air Transportation Engineering.  He majored in Aircraft Maintenance and minored in Airport Management. Upon graduation he received an Air Force Reserve Officers Training Corp commission as a second lieutenant in the USAF. He was employed by Allison Division of General Motors in Indianapolis as Turbine Engine Development Engineer until called to active duty in the USAF.
In 1957, after getting out of the Air Force, Chuck moved to Huntingburg to be close to family & worked as project supervisor and co-coordinator during the construction of the original Huntingburg Clinic. During that time, he met Ray Duncan, owner of Duncan Aviation, who offered to sell his business on the airport. Chuck accepted the offer and was involved with the airport for the next 40 plus years.
Over the decades, his company offered pilot training, aircraft rental, aircraft maintenance, fuel and oil sales, aircraft hangaring, aircraft sales, charter service, pilot service, aircraft management. He gave many new pilots & mechanics their start in aviation and introduced many local businesses to the world of corporate aviation.
A few of the milestones of his 40 year career on the airport, in addition to instilling a love of flying to hundreds of people, include the first blacktop runway in 1959, pushing for County control of the airport in order to have an increased tax base for future improvement and expansion – accomplished in 1982,  the growth of local business aviation, installation of jet fuel facilities, and many other continuous efforts through the years to help build awareness of, and the growth of, the airport.
The city of Huntingburg purchased the airport in 1967 with a Federal Grant and matching donations. Part of the Bob Brunsman farm was also deeded in 1967, while in 1969 runway lighting was added. Other improvements through the years included: 1971- Radio Beacon (NDB), 1973- 4,500' paved and lighted runway, 1975-VOR/DME installation; 1976-construction of equipment shelter 45'x50', 1977- Ferdinand NDB, 1978 – corporate and private hangar construction, 1982-metal pole building for storage 30'x45'.
In 1983, the Dubois County Airport Authority, a joint venture (government-municipality) with the City of Huntingburg and the County, assumed control of the 176-acre complex and added maintenance equipment.
In 1985 6 dry dams were constructed on airport property. Raymie Eckerle became the airport manager in 1986. Additional maintenance equipment was added from 1986-90.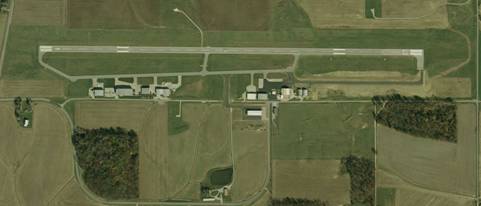 In 1991 runway (500') and apron extensions were completed and the Humer, Inc. property (94 acres) was purchased. In 1992 the AWOS (automated weather observation station) system went online, Jasper Engines and Transmissions Hangar was completed and additional maintenance equipment was added. Best Chairs leased the Westside of Jasper Flight Service Hangar in 1993 and completed their own hangar in 1994.
In 1995 GPS approaches were requested and a mound septic system was completed. In 1996 a PAPI-4 system on Runway 9 was commissioned and the 96-acre Dittmer property was purchased. A new airport road was built and construction of the Jasper Flight Service hangar project was all completed in 1998-1999.
In January of 2000 the Airport Authority hired airport manager Travis McQueen. In 2001, a new T-hangar unit was built by HNB Hangar, LLC and taxiway A extension project was completed along with taxiway A3 to provide access to HNB Hangar, LLC T-hangars, as were the following acquisitions: new runway lighting system, a backhoe and trim mower. In 2002, a pilot control runway lighting system was operational. In 2004, an aircraft-parking ramp was completed, providing parking space to larger aircraft. In 2005, MasterBrand completed their Hangar facility with the FAA, Dubois County Council and Airport providing access via a taxiway system.
In 2014 the Dubois County Council (invested $450,000.00) and Dubois County Airport Authority jointly constructed a T-Hangar to provide additional capacity for the storage of aircraft.